A quick thank you to everyone who took the reader survey – your responses mean a lot to me! However, I think before and after photos of Mr Trixee's haircuts are beyond the scope of this blog 😉
***
You may have noticed that I've had a few obsessions during this building process, such as cornices, lighting, and taps. What you probably didn't know is that I'm also slightly obsessed with curtains. I think my obsession probably started with Gone with the Wind, when Scarlett made a dress out of velvet curtains. And while I may not be the crazy curtain lady of Coventry, I have spent a decent amount of time on Pinterest researching curtains and window treatments, especially in regards to energy efficiency.
Why curtains?
Window treatments were always going to be an important climate control mechanism for us, what with our abundance of north-facing windows and lack of an air conditioner.
Yes, I'm talking about these beauties:
I'd always been set on having double curtains everywhere, sheer on the inside and blockout on the outside. Then I read this very informative  fact sheet from Josh's house on window furnishings, and it made me doubt myself a little – perhaps blinds in the living area were the way to go?
Then I did a little bit of research, but nothing convinced me that blinds were particularly better than sheers in a double-track situation. In fact, all my research pointed me towards curtains as being the most effective from a climate control point of view, especially when pelmets are involved, which we have in most rooms. That, coupled with floor-length curtains, seem to provide the best thermal control, according to both our architect and the computer modelling.
And I also kept coming back to my vision of soft sheers, and so I thought, bugger it. I'm getting curtains and sheers. 
Decision made, I sat on my hands a while as I wasn't sure what to do next.
Choosing the curtains
Meanwhile, I started hanging out on Instagram and got in touch with the lovely Jane Ledger of Spacecrush. Her pictures are oh so pretty. At this point, I was getting ahead of myself and thinking about just getting a designer in to make all the hard decisions about furniture for me. After chatting with Jane, it became apparent that we weren't quite ready for that yet. But she let slip something about window furnishings, and I silently yelled "Eureka!" inside my head, and made an appointment stat! Turns out that Jane is also the interior designer for Window Studio, and that propelled me  towards taking action as now I had something tangible to work with, and a stylist whose work I liked.
(In an effort to be fair, we also got other quotes, and they were roughly the same cost-wise, but the personalised service we got from Jane and Window Studio's Adele were far superior.)
So we had our appointment with Jane and Adele, and Mr Trixee was admirably restrained throughout the whole process (except when we started giggling about my lady lair, during which he wisely chose to busy himself elsewhere at that time. More about that later.).
Technical details
In keeping with our contemporary styling, I was keen on having all the curtains as ripple fold (aka S-fold, aka wave fold) to get the clean vertical lines you often see in display homes these days.
One glitch – our pelmet size was too narrow – we needed 300mm to accommodate double ripple fold rails, but we only had 250mm.  But they didn't seem too concerned, and recommended the blockout curtain be in pencil pleat instead, but still have the sheer in the ripple fold to get the nice lines. This is apparently not uncommon, and they didn't seem fazed. The other advantage of the pencil pleat is that it takes less room for stacking.
Other things:
All curtains will be ceiling mounted behind the pelmets. In the rooms where we have cornices, they will need to be mounted on the wall otherwise they will protrude too much. On the plus side, we'll be able to fit two ripple folds there as we won't be restricted by the pelmet size.
All curtains will have flick sticks for opening and closing (no cords to get tangled in, this is becoming more and more common).
The sheer faces into the room, while the blockout sits between the sheer and the window.
Open Plan Area & Master Bedoom
I'll start with the open plan area, as that's where the biggest curtains are going. We tried a few different combinations, but ultimately it came to a showdown between two sheers.
The blockout curtain we chose was the Lavish Platinum by James Warwick. It's a heavy satiny fabric that drapes beautifully and is lovely to touch. I pretty much honed in on this one straight away.
The sheers, on the other hand, were a tougher act. Both were gorgeous, and quite different to each other. In the end, I chose both!
I'm using the Pure Linen Wool by Zepel in the open plan area as I wanted a more open feeling, and the colour perfectly matches the Essastone Bone White benchtop. And I'm using the Hymn Slate by Warwick in the master bedroom where I wanted it to be more cocoon-like.
Library
Next, the library! This one also came down to 2 choices. Again, we went with the Lavish Platinum blockout, but the sheers were different.
Both options for sheers were linen. The Laconia Lichen by James Dunlop was a bluish-greenish-grey whereas the Pure Linen Cloud by Zepel had warmer undertones.
I ended up choosing the Laconia Lichen, as I liked it better and it seemed to have more personality.
Lady Lair
Finally, we're up to the Lady Lair! This is my own personal study/retreat, and I'm going with a Snow Queen flavour.
Step 1. Get velvet curtains.
Step 2. Rule the world!
Ahem. Let's just start with the first one. Now, for some bizarre reason, velvet curtains aren't very common these days, goodness knows why as they are awesome. Anyhow, because of this, we had to reschedule the selection because they didn't bring any samples along. So a few days later I met with Jane again and she brought some lovely velvet samples. I knew the one I wanted as soon as I saw it. Strangely enough, it was called "Purple" from Warwick's Utopia range. They couldn't even think of a fancy name for it! So the velvet was pretty obvious, but I'm still trying to decide between the sheers.
So we're getting Window Studio to do the open plan, library, and master curtains, while we take a bit of time to figure out the rest later.
Roomba, dogs, and curtains – do they mix?
While reading around about the strength of various fabrics against sunlight (blockouts are designed for this, and linen is one of the hardiest fabrics known to mankind), mention was made on how to clean them. I was worried that our future dog might rub up against them and get them dirty. And roomba tends to get a bit dusty after a while too. 
On the Roomba front, there shouldn't be a problem with it getting tangled in the curtains as they will just brush the floor, but I still haven't quite worked out the logistics of keeping the dust from Roomba off of the bottom of the curtains. Either I'll need to keep Roomba dust-free, or work out something with a virtual wall. I suspect the former. Oh hang on, I just found these, it seems there may be a solution after all!
On the dog front, I googled several articles on keeping pets away from window treatments, even to the point of making dog repellent for furniture! It will be a training exercise for both us and the dog, I think.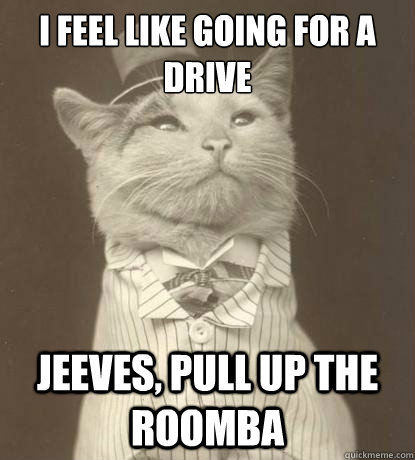 Are you also obsessed with curtains, or are you more of a blinds person?
And do you have any tips on keeping dogs away from stuff?
(Visited 2,735 times, 2 visits today)